Fundraising Books
Quickly Earn $1000 or More for Your Group or Cause When You…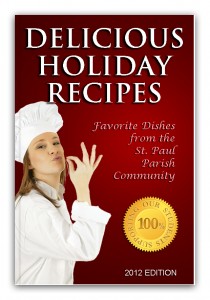 Publish Your Own Fundraising Recipe Book …In Just 3 Easy Steps!

Dear Friend,
As the new school year kicks off, your groups will be looking for a simple, fun way to earn money for various causes and activities. But buyers have grown weary of the same old sales and promotions.
Thanks to new digital publishing services, creating and publishing books is now an easy and affordable fundraising option for everyone. And recipe books are the most popular category of all books sold.
Imagine, you can create a simple 100 page recipe book, comprised of favorite recipes submitted by parents, grandparents, students, faculty and friends. Your printed book cost is then, less than $3.00 each!
These books sell easily throughout the school and community for $12-$15 each retail as a fundraiser – and you keep at least $10 profit on each book sold!
What makes Recipe Books such a great fundraising opportunity?
All the book contents (recipes) are submitted by the community so no one works hard
All those who submit recipes want to buy a copy of the book they helped produce
You can make this a yearly event, or continue to sell the same book over and over
You can sell the book you created online to readers around the world for ongoing revenue
You can create live events (taste testing pot-luck parties) where the recipes are sampled
The books are all "Print-on-Demand" so you presell…and are never stuck with inventory
It's a great, fun way to foster community participation and conversation
Recipe books are THE BEST SELLING category of books sold and are timeless
Your recipe book creates a great Annual Activity, Legacy or Tradition for your group
Everyone can say, "I had my recipe published!" for instant fame and celebrity!
All done in just 3 easy steps!
1. Group members (co-authors) submit their favorite recipe(s)
2. Add these recipes into the pre-formatted Word document
3. Upload the Word file to the Digital Print-On-Demand Publisher
You can even design your own custom book cover, or have one done very inexpensively for you. The exterior cover template is included along with the interior template!
If you would like more information on how your groups can get started in this fun, community friendly fundraising opportunity based on the new digital publishing model, please contact me at the number below. There is still time to make this a great new Holiday Fundraising Tradition for your community or group, but due to the popularity of my book writing programs my private and group presentation times are limited.
Call now for more information – because your groups deserve all the help they can get!
PHONE MY BUFFALO, NEW YORK OFFICE at: 716-834-8731
To your success,
Robert Schwarztrauber
Author and Digital Publishing Specialist
BONUS: When you call, I'll also send you the free report, "7 Ways to Make Maximum Money from Your Recipe Book". This report offers 7 fun activities that increase your profit potential from $1000 to $3,300!
P.S. If you are switched to voice mail because I'm on appointment or consulting with another group, please leave a voice message including your name and phone number and your call will be promptly returned.
Click on the text link just below to access a high resolution PDF File of this page for printout, future reference, or easy reading…
P.P.S. I'm in the process of putting together a complete plug-and-play system that any group or organization can use to quickly get their fundraising book written and delivering profits. Let me know if this would interest you and I'll gladly add your name to my early contact list.
P.P.P.S. This simple system can accommodate not only recipes, but all sorts of content. Poems from each student, or just the graduating class. Short stories or artwork. It makes a perfect project for literature classes. The possibilities are only limited by your imagination. Each book can be as short or as long as you like. Each year, your fundraising book sales could bring in up to $12,000 in additional revenue to benefit your groups!
Use FUNDRAISING BOOKS for:
Boy Scouts, Girl Scouts, Sports Teams, Field Trips, Graduating Class, Extra-curricular activities, school pride, educational equipment, facility improvements and more!
=========================================================================
RECIPE BOOKS ARE JUST ONE OF THE MANY FUNDRAISING BOOK OPPORTUNITIES.
CALL NOW FOR MORE CUSTOM FUNDRAISING BOOK IDEAS!
Ask for Bob at: 716-834-8731

=========================================================================
FCC REQUIRED DISCLAIMER:  The 100 page recipe book is an example used to demonstrate a simple fundraising project for easy completion. The $3 wholesale cost is about the least you would pay for a digital, print-on-demand paperback book and $12-$15 is a fair market rate for a book of this size and type. As a fundraiser, you are free to set the final retail price. Shipping charges are not included as they depend on quantities ordered and speed of delivery preference. Obviously, no guarantee of income can be made since your group's participation will determine the ultimate success of your program. However, since these are print-on-demand books, you incur no cost to produce your book, and you will only order books that you have pre-sold. No money is at risk and you never have unsold inventory. You have nothing to lose and so much for the community to gain by putting your first fundraising book together now!