Inside Book Writing Magic
"Book Writing Magic
Shows you how to get your message out fast!
Do the 'work' once,
reap the rewards for years to come!
Claim your share
of the attention, profit and fame."
Here's just a few reasons why you need to put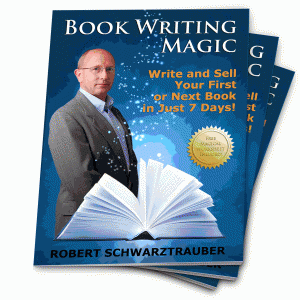 your next book together fast…
• To influence millions around the world
• To educate millions
• To raise awareness for your cause
• To earn respect as a published author
• To stand out among your friends and peers
• To demonstrate your expert status
• To generate leads or sales
• To get others to pay for your "advertising"
• To entertain
• To leave a book as a lasting family legacy or history
• To replace a standard business card
• To offer as a gift or premium
• To raise funds for your favorite charity or non-profit
• To create additional sales revenue
• To create automated steams of recurring income
• To give purpose to your retirement years
• To attract like-minded friends and associates
• For durability – clients keep books in sight
• To bring offline clients online
• To pave the way for media and speaking opportunities
===========================================================================
One Reader Says…
"Short, sweet and to the point!
The subtitle, "Write or Sell Your First or Next Book In Just 7 Days", got my attention, so I decided to get a copy. The author really has a nice conversational approach to writing. You feel like you are talking with him as you read.
His "Write Your Book In 7 Days" worksheet really helped me to clarify my thoughts and structure the formal writing process into short, easy to accomplish steps. He also offers great guidance on how to stay focused on what your readers want as well as finding a great title. He shows you how you can get it published in print and online as an e-book, at no cost."
=============================================================================
"Never before, in all the history of the printed word, has mankind been given the ability to write and publish his own book for free and distribute it (for free) to a worldwide audience of millions."
The opportunity to secure your place in history is upon you. The opportunity to start earning money from a book… one you wrote and published for free… is upon you.
Book Writing Magic will show you how it's done.
It's time for YOU to get started!
Here's a sneak peek at what's inside…
How to begin, if you're not sure what to write about or how to do it. page 13
To sell books you must first know why people read them. Know this and the book you write will always be popular. See the real reason people read on page 19
This type of book always has an eager audience waiting to buy. page  24
The seven human fears people will do almost anything to avoid. Show them how in your book and you'll have big winner. page 25
There are already hundreds of books on my topic. Should I chose something else? Most get this wrong. See what you should do and why on page 26
Magical way to write a book without typing one word? Hint…you do it all day long. page 33
Can I still finish my book in 7 days if I have only one hour of free time each day? If you do this you can. It's exactly how the "Harry Potter" series got started. page 37
How to create starving mad fans, drooling to buy your next book, even if you're a brand new author. page 46
The surprising reason it's better to write several small books instead of one large book. page 46
How to get search engines to love your book. Get this right for tons of free advertising. page 48
My topic is controversial, will it be blocked by censors? You should be OK if you avoid this one word like the plague. Critical FTC warning on page 48
Where to get beautiful, original artwork for your book cover…for only $5. page 49
Enjoy a cup of coffee while doing book research at this surprising place. You don't need government clearance, but it's the biggest secret you never heard. page 50
How to give your book celebrity appeal, even if you're a complete unknown. page 55
How long should my book be? Some write too little and annoy the reader. Some write too much…and annoy the reader. Find out just how much to write to make'm happy. page 63
Where can I sell my books? page 65
Plus you'll get answers to these most common questions:
What are the best topics to write about?
How to choose a title that will get your book noticed. Why the specific word order is so crucial.
Which sells better, fiction or non-fiction?
I did bad in English. Can I still write a book?
I can't type. How can I write a book?
How do I know if my book will be accepted?
Will the publisher help me sell my book?
Doesn't it cost a fortune if you only print one book?
How long does it take to get your book approved?
I never went to college. How can I become an expert by writing a book?
Do I have to buy 5000 copies to sit in my garage?
Can I have pictures in my book?
Are these just black and white books, or can they be color?
Which emotions should I key on to keep people reading?
Do I have to put my own name on the book?
My topic is very specific to my business. Is it worth it for me to write a book?
And I include these great tips:
The secret to getting books done fast. It has nothing to do with your writing or typing skills.
The most important thing to focus on when writing.
How to pay the rent, this month, with book sales.
How to get your book bar-coded for free, so you can sell it anywhere.
Oops!
I realized I just said SELL and you hate the thought of selling anything, including your own book.
No worries. I also show you how the world's biggest online retail outlet will help you sell your book…and the only work you do is cashing the commission checks they send you!
If that's not easy enough, I'll tell you how you might make even more money JUST GIVING YOUR BOOK AWAY!
"This sounds great, but how do I know it will work for me?"
Here's my answer.
I recently gave a brief,  five minute presentation on "Book Writing Magic" to a group of local business men and women. Remember, my talk was 5 minutes long.
They didn't get 1/10 of the information contained in my book. Yet 4 of those businessmen had their new book finished when I saw them less than a month later.
Imagine what you can do with ALL the information!
If you've always wanted to write a book, but never thought you could, this book will show you how. This book will kick-start new ideas and show you how to bring your own ideas to life.
No one else has your exact experience or perspective. You know something that could help someone. Something that could entertain someone. Something that could save someone.
"Don't hide your light under a bushel."
"Let it shine!  Light the way for millions of others to see."
Book Writing Magic will show you how. It's a simple investment of less than ten dollars.
Never before, in all the history of the printed word, has mankind been given the ability to write and publish his own book for free and distribute it (for free) to a worldwide audience of millions.
The opportunity to secure your place in history is upon you. The opportunity to start earning money from a book you wrote and published for free is upon you.
Book Writing Magic will show you how it's done.
Click Here or On The Book to grab your copy now for just $9.95!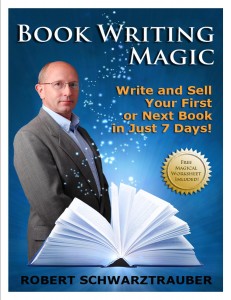 Sincerely,
Robert Schwarztrauber
Author of "Book Writing Magic"
P.S. I almost forgot…you also get a full page with links to all the most important online resources you'll need to get your book done fast, and up for sale, even if you can't type a single word! This one page alone is worth 10X the $10 investment in your future.
P.P.S. Plus, you get FREE access to my "Fast Book Writing Worksheet" to help you organize your tasks for lightening-speed book completion and sales!
NEW…FREE BONUS!
Purchase this book then send me an email with your receipt code and I'll send you a FREE audio interview I did recently for one of the world's top marketing experts. This is the same guy who interviewed Jack Canfield of the outrageously successful  "Chicken Soup" series. In this interview he picks my brain to see how I created a Photoshop book from scratch, as a beginner who knew nothing, and went on to sell over $8,000 of that book using free ads on Craigslist. I spilled the beans so you'll know exactly how to do this too. To get this amazing FREE bonus MP3, just send an email to: robert@bookwritingmagic.com  Be sure to include your receipt number in your email.